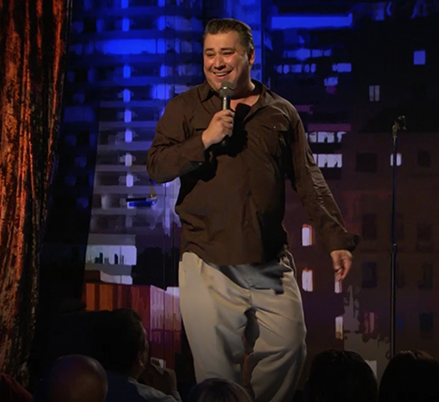 I'm all over!
Born and raised in San Antonio, Texas, Cleto Rodriguez is living his lifelong dream of being an elite stand-up comedian.
Cleto performs nationwide in comedy clubs, corporations, colleges and churches. He's the feature reporter on News 4 WOAI's morning segment "Where's Cleto?" in San Antonio and also appears on the late morning lifestyle show "San Antonio Living". Check out the videos!
Cleto was chosen as the comedian for the 2008 Promise Keepers events in seven U.S. cities.
Cleto connects with audiences from all backgrounds by relating his everyday life experiences. Everything is fair game, from marriage to the challenges of dieting. His comedy is high-energy, observational and hilarious with a brilliant Latino twist.
With more than a dozen years performing comedy, Cleto has worked with comedians George Lopez, Carlos Mencia, Wayne Brady and Brett Butler. 
He has strong San Antonio roots going back to his grandfather, San Antonio native Cleto Rodriguez I, who was one of Texas' first Congressional Medal of Honor winners. Cleto also contributes his time and talents to the community by helping raise money for disadvantaged youth and the homeless.
Book Cleto now!
Cleto Rodriguez has opened for:
Toby Mac
Salvador
George Lopez
Wanda Sykes
Wayne Brady
Third Day
John Gray
Linda Ronstadt
KC and the Sunshine Band
War
Carlos Mencia
Bill Bellamy
Gary Owen
Village People
Starship
Daniel Tosh
Tommy Chong
Paul Rodriguez
Dustin Diamond
Bob Smiley
Rolls Royce
On stage or in front of the camera, Cleto has been all over!
Tours
Ultimate Comedy Tour
Laugh All Night Comedy Tour
Promise Keepers Tour
Laughaluja Tour
Que Locos Comedy Tour
Loco Comedy Jam Tour
Cadillac's Of Comedy Tour
Canada's Comedy Tour
Texas Comedy Tour
Television Appearances
Host Of "The Cleto Show" On KABB Fox
Galavation's Que Locos
Si TV's Funny Is Funny
American Life Network LOL
Mun2 Loco Comedy Jam
Ole TV
La TV
Great Day SA
The Living Show
The Morning Show On Fox
Sky Angel
Showtime's Latino Laugh Festival
BET Comic View
Movies
Even Hand
Theatre
Mariachi Mitzvah
Skits O Frenia
Internet
Internet Host Of "Late Night With Cleto Rodriguez
Comedy Clubs
The Comedy Zone – Beaumont
The Comedy Showcase – Houston
Sparkling City – Corpus Christi
Comedy Stop – Las Vegas
The Laff Stop – Houston
Captital City – Austin
The Laugh Spot – Houston
Cleto has performed at:
Corporations
Sea World
San Antonio Police Dept
H.E.B.
Cosmetic Dental
USAA
Harcourt Assessment
Rio Grande Electric
Southwest Mental Health Cntr
Univision
Latin Fusion
Texas Migrant Council
Hispanic Chamber Of Commerce SA
Bow Tech
Associated Feed
Alpha Testing Inc
Dr Horton
Allstate Insurance
Eagle Valley Homes
Excel Energy
Associates Of Realtor
Global Scape
Conferences
Promise Keepers
Fresno
Charleston
Dallas
Ft Lauderdale
Atlanta
Baptists General Conventions
Overseas Council Conference
Wounded Warriors
Northwest Ministry Conference
Clean Comedians Association
SAMM Conference
US Conf Of Mennonite Brethren
Colleges/Universities:
Trinity University San Antonio
University Of Miami – Miami
UT San Antonio – San Antonio
Southern Methodist Univ – Dallas
University Of Texas – Austin
University Of Texas – Edinburg
University Of Houston – Houston
Liberty University – Lynchburg
Laredo State University – Laredo
Lady Of The Lake University – San Antonio
Texas Lutheran Univ – Seguin
University Of Cal – San Bernardino
Oregon University – Portland
University Of Detroit – Detroit
Baptists Univ Of The Amer- San Antonio
Festivals
God Fest San Antonio
Heaven Fest – Denver
Spirit West Oat – Del Mar
K-Love Music Festival
Las Vegas Comedy Festival – Las Vegas
Viva La Musica Festival – San Antonio
Hispanic State Fair – San Antonio
Jam For George Music Festival – Laredo
Jamz Festival – San Antonio
Churches
Fortress Church – San Antonio
Oak Hills Church – San Antonio
Alamo City Christian – San Antonio
Jubilee Outreach – San Antonio
Village Pkwy Baptist – San Antonio
Living Faith Church – San Antonio
Grace Community – San Antonio
Ekklesia – San Antonio
Dream Center – Los Angeles
First Baptist Of Mckinney
First Baptist Of Harlingen
First Baptist Of Orlando
First Baptist Of North Mobile
First Baptist Of Woodstock
West Oakwood Baptists – Austin
Fellowship Church Grapevine
Church Of Christ Friendswood
Calvary Church – St Peters
Crossroads Baptist – Woodlands
First Church Of Nazarene – Gallipolis
First Church Of Nazarene – San Antonio
First Baptist Of Scottsdale
Bethany Community Church – Temple
First Baptist Of Boerne – Boerne
Family Of Faith – Houston
Lucretia Church Ridgeway – Ridgeway
Wedgewood Baptist Church – Dallas
Northland Church – Longwood
N Garland Baptist Fellowship – Garland
Bethany Bible Church – Phoenix
Lighthouse Tabernacle – Lumberton
West Cobb Baptist – Powder Springs
New Life Christian Center – Port St Lucie
Northern Hills Christian Church – Denver
Thomas Road Baptist Church – Phoenix
Brooklyn Park Church – Brooklyn Park
The Potters House Church – Chicago
Village Grave Mission Center – Cleveland
Clovis Hills Church – Clovis
Clear Point Comm Church – Pasadena
Heartland World Minis Church – Dallas
Cross Point Baptist – Millington
Morningside Church –Port St Lucie
Pentecostals Of Alexandria
Snoqualmie Valley Alliance – Snohomish
Overlake Christina Church – Redmond
Columbus Christina Cntr – Columbus
Christ The King Catholic – Corpus Christi
Prince Of Peach Catholic – San Antonio
Word Of Life – Chicago
Cornerstone Baptists Church – Amarillo
Calvary Chapel – Melbourne
Westlake Bible Church – Austin
Bethesda Community Church – Ft Worth
Oasis Christina Center – Los Angeles
First Baptist Of – North Augusta
Fellowship Church At Anthem
Covenant Life Church – Bremen
East Valley Bible Church – Tucson
Antelope Church – Lancaster
Covenant Family Church – College Station
Theaters
Lucas Theater – Savannah
Spreckels Theater – San Diego
Municipal Theater – San Antonio
Empire Theater – San Antonio
Orpheum Theatre – Phoenix
Carlsbad Theatre – Carlsbad
Fresno Auditorium – Fresno
Majestic Theatre – San Antonio
Selena Auditorium – Corpus Christi
Laredo Little Theatre – Laredo
The Paramount Theatre – Austin
Cine El Rey Theatre – Mc Allen
Chavez Theatre – El Paso
Charities/Benefits
American Diabetes
Cam's Ministry
Agape Pregnancy Help Center
Mission Road Ministry
New Missions Ministry
Brighton School
Project Care
St. Jude's Children Research Hospital
Comic Relief
Toys For Tots
Jimenez Thanksgiving Dinner
Texas Family Camp
The Answer Evangelistic Ministry
Father/Daughter Dinner
Now Ministries
Southern Evangelists Retreat
Military Bases
Randolph AFB – San Antonio
Lackland AFB – An Antonio
Ft. Hood – Killen
Ft. Sam Houston – San Antonio
Laughlin AFB – Del Rio